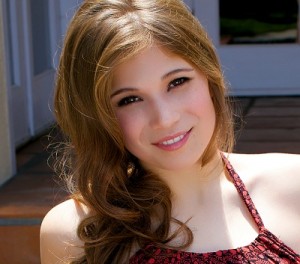 Q: You have been on ARMY WIVES as Emmalin Holden since 2008, how do you think your character has changed since you first began?
I think that when Amanda was alive Emmalin was kind of the shy one in the family, and when her sister died she struggled because a lot of the focus was shifted to her and she felt guilty that this was due to the loss of someone she really loved. However, it forced her to start to branch out and discover who she is as a person, and she has become much more out going and outspoken, and in a way wise. Admittedly it was a learning process, with a lot of drama on the way.
Q: Emmalin has clearly been through a lot of pain and suffering – how do you prepare yourself to act in these types of scenes?
Those types of scenes are really hard because if I were to not actually feel it, it would seem unauthentic or "faked" and I think the stories we tell deserve better than that. So, I really think of all the things that Emmalin would be going through and how they affect every aspect of her life, as well as drawing from past experiences where I've been hurt in a similar way. Turns out remembering past heartbreak is really helpful when trying to authentically display hurt haha, guess it served some purpose.
Q: You work with a lot of talented people on the show, is there anyone you have grown especially close with?
I am really grateful to be on this show, everybody who is on it has been really sweet to me. I also think they are all tremendous actors, so going to work is fun for me because I get to watch and learn about different people's styles and techniques. However, being the child of "Claudia Joy and Michael," most at my time at work is spent with
Kim Delaney
and
Brian McNamara
, and I have grown really close with them. They've helped me and taught me so much in the few short years that I've had the fortune of working with them, about acting and about how important it is to always have respect for the other cast members and the crew members (who are really the unsung heroes of our show, they work so hard and enable us to do what it is we do). I really feel like in a way we are a family, which is really nice and also really rare in a work environment I think. Also, because everybody is down here and kind of secluded in Charleston we are all really close and we have all formed friendships with each other. We hang out with each other and look out for one another. For example, last year when I moved here full time I was really lonely and homesick and
Drew Fuller
kind of took me under his wing and showed me that Charleston has so much to offer, you just have to be optimistic and get out there everyday and find new experiences. He's kind of like an older brother to me.
Q: ARMY WIVES is a show where stories always end up coming together, however each family has their own separate storylines, is there one that you enjoy watching as a fan the most?
This is a tough question. I think that each couple is unique in its own way so it's hard to say which I enjoy watching the most. It is cool to watch the stuff that happens with my family because I know how much went into each scene and it's always interesting to see the final result. I think its fun to watch
DrewFuller
and
Sally Pressman's
storyline too because they get to act out funny situations sometimes with the dog/kids/craziness etc. going on.
Q: ARMY WIVES is a show that hits home for a lot of viewers with the war in Iraq really happening, whether or not you know someone affected by this directly, we all are. How has this affected you, being in such a real show?
My dad is actually in the Army. He did an 11 month tour in Iraq in 2003, so it hit home for me even before I had heard of the show. I think that the biggest way it's affected me is that I feel a sense of pride because we're telling stories that nobody else is really telling. I'm honored that we are able to put that out there for all the Army families in our country, we help to give them a voice.
Q: You definitely aren't new to acting, a lot of people recognize you from TV shows such as THE SUITE LIFE OF ZACK AND CODY and MONK a few years back, what got you started into acting?
When I was 8 years old I discovered that I was really in love with Musical Theater. I loved acting and I loved singing and dancing and I wanted more of it all the time. My parents were really great, they helped me start out in community theater and they took me to New York a couple times where I went to a couple "cattle call" auditions and ended up booking a part in THE AMERICAN DOLL REVENUE when I was ten. I had to move there for a year and do this off-Broadway show and it was like a dream come true. I went out on open-call auditions for some other stuff and eventually picked up an agent and starting auditioning more consistently. I was doing another off-Broadway show called CAPTAIN LOUIE by
Stephen Schwartz
when they recommended that I go to LA for pilot season, and so my mom and I took a trip out there and I loved it and kept doing well, so we kept going. It really was an amazing thing that my mom and dad enabled me to chase my dream at such a young age. It kind of was just a natural progression where we said okay well we can do this for now and then see what comes next.
Q: After ARMY WIVES is over (hopefully not anytime soon!) do you plan on continuing with acting?
Absolutely. Some people search their whole lives to find something that makes them feel like this is it, this is what I'm supposed to do and what will make me happy. I lucked out and discovered it when I was eight, and I've never had a doubt it's what I'm going to do with my life.
Q: If you could meet one person, dead or alive, who would it be?
My great-grandmother on my mother's side, I've heard the greatest stories about her and I regret never having been able to meet her. I also would really like to meet
Meryl Streep
and
Kate Winslet
.
Q: Aside from acting, what are some of your other passions?
I have been playing ice hockey since I was six, so I'm passionate about that. I'm going to Cornell University in 2011 where I'm going to study theater arts and play hockey. I'm also going to study nutrition, I'm big into health. If I ever gain more recognition through acting I'd like to be able to educate young kids about nutrition and how important it is, especially in the environment we live in now where processed junk foods are the norm. I want to show them that healthy food can be delicious too and that what we put in our bodies really does make a difference in our lives.
http://thedreamagazine.com/q-a-with-katelyn-pippy/